There are 2 versions in 2 different formats. The first version does not mention masks while the second version does. There are two formats. The JPG versions (the picture) and the PDF version the text line below it.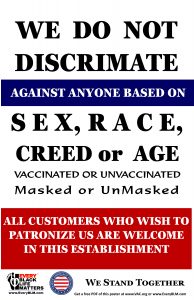 MERCHANT SIGN- We Do Not Discriminate nomasks needed PDF Version
Click on the poster you want, use the PDF version if you want a high res (as it's a vector file). Print it out on an 11×17 sheet and post it at your store, or if you don't have a business, take it to your favorite store and ask them to post it.